For Immediate Release
8/16/2016
Work at 2101 Champlain Street, a luxury Kettler apartment project, is progressing as scheduled. Wood framing is ongoing and we are anticipating topping out the building the last week of August. Windows, vapor barrier and brick installation will begin this month starting in the courtyard and then working our way counterclockwise from the north side around the outside of the building. The tower crane will be taken down by the end of September while roofing work will be in full force to prepare for the green roof in early October.
On the inside of the building, our mechanical, electrical, plumbing and sprinkler trades are fully mobilized and roughing-in their work in the lower levels. Our advanced unit is close to close-in inspections, with owner acceptance in October. We have a majority of the CMU and metal framed walls complete below the transfer deck with punch out of the wood framing occurring on the second floor and above.  Our goal over the next few months will be to close in the building as quickly as possible to enable us to start drywall and finishes.  Our estimated completion date for the project is May of 2017, which we are on schedule to meet.
(Pictured above: the 2016 L.F. Jennings Summer Interns as well as members of 2101 Champlain Street Project Management Team)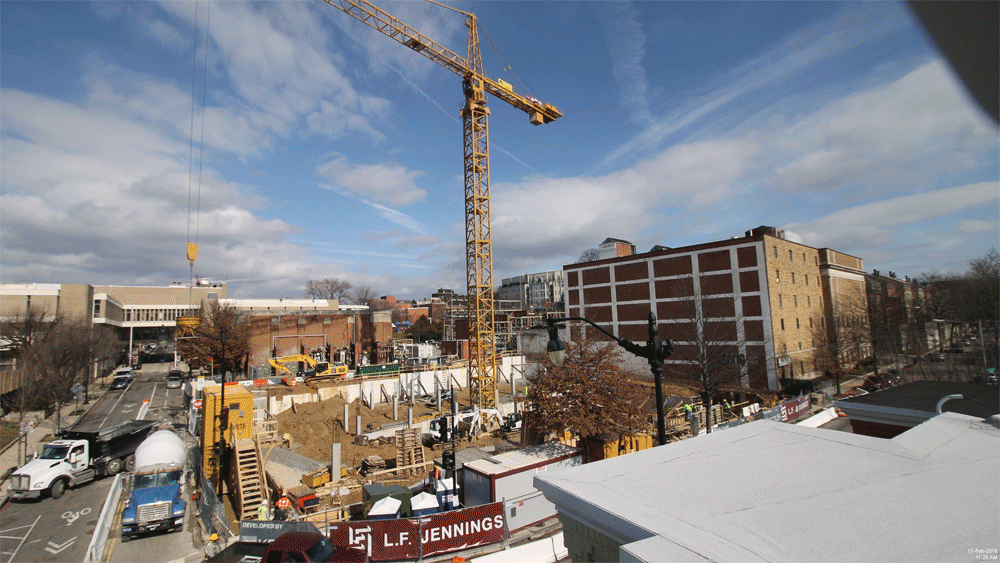 For More Information:
Jim Fowler
L.F. Jennings, Inc.
Falls Church, Virginia
(703) 241-1200